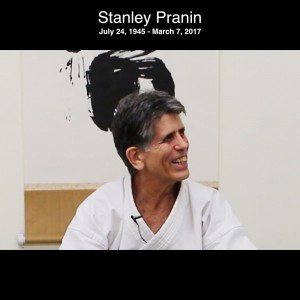 For those who haven't yet heard… Stanley Pranin Sensei passed away on March 7th 2017.
He spent his whole aikido life (over 50 years) researching the history and development of Aikido, and most of his findings, his interviews with famous Aikido and AikiJutsu masters over his lifetime have appeared in his magazines Aiki News, Aikido Journal, and more recently on his Aikido Journal website. He was the author of The Encyclopedia of Aikido, and numerous other books on Aikido history. Over the last few years he has been developing a system of training he designated as The Zone Theory of Aikido, introducing this at seminars around the world.
He was diagnosed with a severe stomach cancer early in January this year. Many Aikidoka and friends from around the world contributed to a medical fund to help him fight this cancer and although he remained positive throughout his illness it eventually got the better of him.
He will surely be missed by far too many people to imagine.
Vale Stanley…
July 24, 1945 – March 7, 2017.